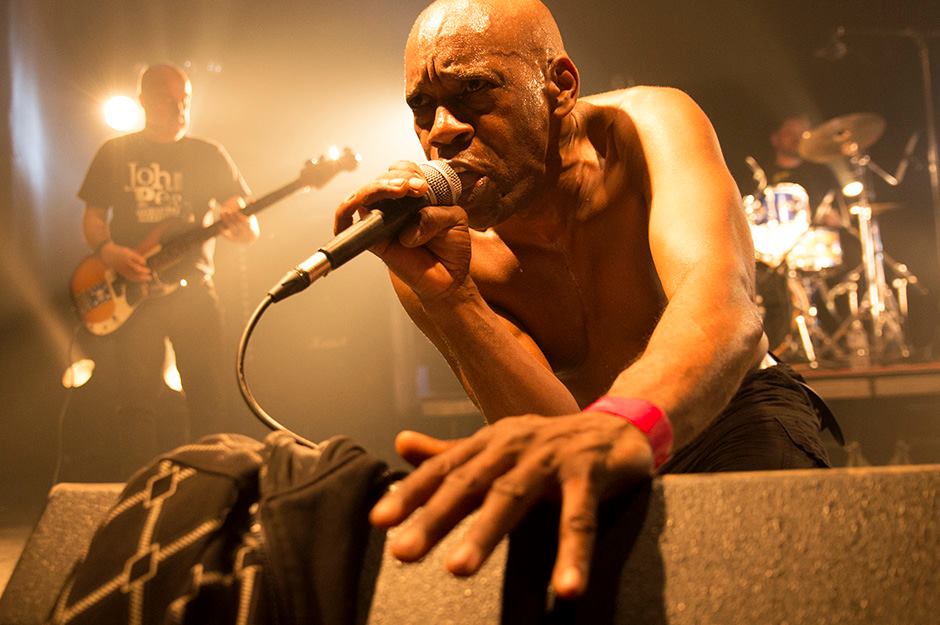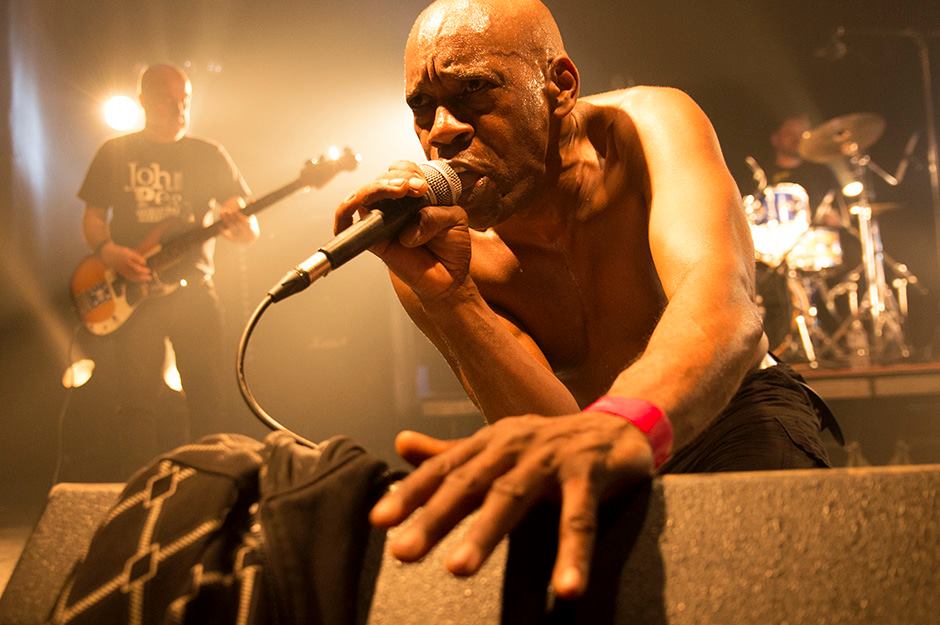 Pourquoi pas? C'est l'occasion de me mesurer à d'excellent musiciens. Nous nous retrouvons dans la cave d'Alain et je découvre le répertoire de cet artiste avant-garde, dont la voix fait penser à Bowie. Ça colle entre nous et nous nous retrouvons bientôt sur scène. La structure de booking « Sofa » est dirigé par Arthur Praet que j'avais connu dans Lavvi Ebbel, dont je retrouve aussi la sonorisation ALC de Dendermonde avec Luc Gerlo comme ingé son. Je n'apprécie pas vraiment la Simmons, à l'époque les surfaces de frappe sont des plaques de mica, on a l'impression de jouer sur un plan de travail, ça favorise le tennis elbow. De plus la palette de son est fort limitée. J'arrive à convaincre que ma caisse claire acoustique est indispensable pour le son 
et la dynamique
de la batterie. Un détail technique aussi la grosse caisse est tellement légère qu'il est vraiment difficile de la maintenir en place dès lors que l'on joue avec une certaine force. Un ingénieur du son en a fait les frais lors d'un concert sous chapiteau sur un podium vraiment pas pratique ma grosse caisse Pourquoi pas c'est l'occasion de me mesurer à d'excellent musiciens. On nous nous retrouvons dans la cave dans l'ain et je découvre le répertoire de cet artiste avant garde donc nous avoir fait penser à Bowie. Ça colle entre nous et nous nous retrouvons bientôt sur seine la structure de booking sofa est dirigé par arthure prat que j'avais connu dans la vie est belle je retrouve aussi la sonorisation à l c de thunder monde avec luc diablo rosso je n'apprécie pas vraiment la simone à l'époque les surfaces de frappe son des plaque de mica on a l'impression de jouer sur un plan de travail ça favorise le tennis elbow de plus la palette de son fort limitée j'arrive à convaincre en n'a plus ma caisse claire est indispensable pour le son de la batterie et la dynamique choix d'une certaine qualité un détail technique aussi la grosse caisse est tellement légère qui est vraiment difficile de la main tenir en place des locaux joue avec une certaine force un ingénieur du son en a fait les frais bayeux lors d'un concert sous chapiteau sur un podium vraiment pas pratique ma grosse caisse [dropcap style= »1″ size= »3″]I[/dropcap] am Daniel Wang, son of Chen-Kuo Wang and Andrée Masson. Born in Frameries, Belgium on  february 13 1963. I begin to play music at 7, on trumpet, and play my first live gig at 8 in the Ancienne Belgique venue for a chinese new year event, accompanied by my father on guitar. [dropcap style= »1″ size= »3″]
1977
[/dropcap] I try drums and guitar, lucky to find the Punk/New-Wave scene to get things going right away, I form my first band with a few friends who could play better guitar (three chords!) or bass than I, so I take on the drums, being better at that. I take the name of a one-shot pseudo-jazz project that a friend (Philippe Terseleer) had invited me to: 
Phallus Band
. With three songs we get our first gig in a punk festival and get two encores. We play a lot between 1978 and 1979 in Brussels and Wallonie.1979 The group split and I join 
Spermicide
 at the time of release of the soon-to-be-banned « Belgique Putain Frigide » single. [dropcap style= »1″ size= »3″]
1980
[/dropcap] I join 
Contingent
 with Eric Lemaître on guitar, whom I would meet again in 
PPz30
 15 years later. [dropcap style= »1″ size= »3″]
1981
[/dropcap] As a side job I begin to work as stagehand in concert venues in Brussels: Ancienne Belgique, Cirque Royal, Forest National,…, for the concert promotor Sound & Vison, where I meet Philippe Kopp, Christian « Fletcher », Philippe Lengelée and Herman Schuermans (Rock Werchter). That gives me the opportunity to discover the « behind the scenes » of a rock concert. It is great to see the rise of young alternative artists like U2, Simple Minds, Eurythmics, from intimate club gigs to packed arenas or festivals. My ability to understand the various accents of English, Irish, Scottish, American and other exotic crews of roadies allow me to become a crew chief and stage manager. [dropcap style= »1″ size= »3″]
1982
[/dropcap] I play a few gigs with 
Jerry WX
 in the projectThree Hands, I have to dig an old tape of a gig in Holland « Beneden de Grens » to post some excerpts. My friend Daniel Rabbinovitch hires me to work with him on market places, selling leather goods. He is playing percussions in 
Lavvi Ebbel
, he introduces me to the band as a needed partner, I have never touched a pair of bongos or congas before, but I get in the groove easally, so off I went on tour in Flanders and Holland, we even played in a festival in Forest National and a the Sea Side festival. Their manager was Arthur Praet, I had him sweat sometimes with my chaotic behaviour, I was going to meet him again later… [dropcap style= »1″ size= »3″]
1983
[/dropcap] Renaud Janson is the first owner of an Emulator sampling keyboard, and the Oberheim system (Ob8/DSX/DMX) in Belgium. He builds a 16 tracks Home studio « Team For Action » around that and, trough my friend Philippe Wauquaire, I begin to work as DMX programmer(this Digital Drum Machine is easally recognizable on Herbie Hancock's « Rock It » or Grandmaster Flash's « The Message ») and sound engineer… [dropcap style= »1″ size= »3″]
1984
[/dropcap] My first time in a studio as a drummer is for 
Michel Clair
, for the single « Je suis brûlé ». On guitar:
Alain Berliner
 (director of « Ma Vie En Rose »), on keyboards: Gwenaël Micault (played with Arno, Julos Beaucarne, Orion, Renaud,…) and bass: Datcha Ribeiro. The single is produced by Nico Françolet and Christian Debusscher of Allez-Allez (they became Whar! production team). We are in the RKM studio, avenue Molière, where Black Sabbath recorded « Sabotage », engineered by Alan Ward (aka Elton Motello « Jet Boy, Jet Girl » aka « Ca plane pour moi »). I almost played in 
Front 242
! I receive a call from Daniel B. : -« Are you doing anything these times? » -« No » -« Good, you are the new drummer of Front then, you will play two gigs in AB and then we go for a tour in the USA, get your visa ready! » -« …? » [spoiler title= »Front 242 suite » open= »0″ style= »1″] -« Hey, it's not a joke, I have everything in my head, it's going to be great! » I was familiar to their « Electronic Body Music » on record, but I was more into Miles Davis and Billy Cobham at the time, so I insist to have a trial rehearsal, wich is reluctantly organized in the AB club. Besides Daniel B., I only know Richard R23 from the punk era, but he looks tense when we meet. The Simmons kit is hooked up and is to be played standing up, Daniel starts the backing machines and I find myself in a thunderstorm of electronic percussion, where would I fit in there? Since I am in a « jazz-rock-fusion » mindset, I figure that some para-diddle flams with syncopated accents would do the job, but it only makes things worse! Daniel tries to mute some tracks, but after some more trials he takes me aside and apologizes for the time wasted. I understand later what would have fitted on drums: a heavy choreographic backbeat, but I think it helped redefine part of the role of R23 on stage, that I would have been « stealing ». Anyway, with them leaving for the States, I am available for other collaborations… [/spoiler] 1985 I play drums with 
Blaine L. Reininger
1986 In February, Blaine L. Reininger & Linear B record a live album on the two days concerts in Beursschouwburg, Brussels. 1991 I join a big band formula of the flemish avant-garde pop band Arbeid Adelt. 1992 I join La Muerte as 8th drummer. We tour in Switzerland, France, Holland and Belgium. 1994 Last concert of La Muerte is recorded and filmed in Brussels, Live CD « Raw » of the event is released / I form a WangWay trio, with Patrick Dorcéan on drums and Fred, then Thierry Rombeaux, then Patrick Leboucher on Bass. 1995 Arthur Praet, former manager of Lavvi Ebbel and Blaine Reininger, contacts me as director of Dureco record company, he hires me as sales representative. PPz30's drummer, Phil « The Vibes », is injured, Eric (Contingent) Lemaître contacts me and I replace Phil for five concerts. 1996 I join PPz30 on guitar, replacing Jean-Luc « Monster » Guyot, as the band is finishing the album « Sweet Smell of SuckSess » and releases the single « Jumpin' Jehosaphat » (I play percussions on that song). Lots of concerts follow the continuous airplay of the single. 1997 As we work on a new album « This Is Not A Bell », I play two times at the Dour Festival: on guitar with PPz30 and then on drums with a unique reunion concert of La Muerte. 1999 PPz30 joins Carbon7 label and teams up with André Gielen on production for the new album « Beautifuel ». 2001 I quit my sales job in the record business. 2003 I quit PPz30 and concentrate on my project WangWay, sending a demo to most of the record labels, nothing comes out of this. 2006 Marko Kapri (La Muerte) initiates the Kriminal Hammond Inferno project with Simon « Diabolix » Rigot on Hammond B3 and me « Kriminal » on drums. 2007 John Baine (aka Attila the Stockbroker), first bass player of Contingent in 1979, finds me on the internet. I put him back in touch with Bob and Eric as he prepares to play a gig in Brussels. We decide to reform Contingent on that occasion, at least for the fun of it. We have a very successful concert in Magasin 4, sharing the stage with Attila's Barnstormer, PPz30's 15th birthday party and Grimskunk (CAN). That same night I play in Recycl'Art, with Kriminal Hammond Inferno, for the « The Swinging Lust World of John Phillip Law » ..ary, directed by Marko Kapri, projection party.